University and Art School Portfolio Prep Classes in Maryland
Be ready for any art school when you take part in portfolio prep classes in Maryland. At Artipre Art Institute of Maryland, we offer sessions on art portfolio preparation for students throughout the state. With our classes, you will showcase your perceptual skills [link to teens' classes] and artistic abilities for the admissions process for the school of your choice.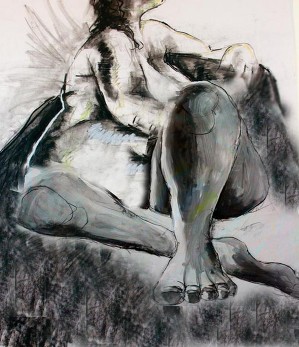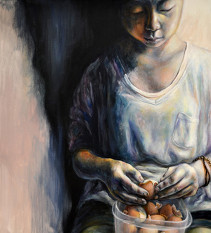 2015 Scholarstic National Winner - The Chore
Portfolio Preparation Class
For most university art programs and private art schools, the portfolio plays a determining role in a student's admission. There are certain fundamental qualities that all outstanding portfolios share, and there is a variety of principles and techniques that can help take your portfolio from Average to Excellent. All portfolios should demonstrate creativity, skill, range, thought, and potential.
This class will prepare students for creating a portfolio leading to college acceptance. Practical curricula that Artipre offers can significantly enhance a student's prospects for getting into art school as well as successfully negotiating college life. (Click here for the list of our students admitted to colleges with scholarships.)
Artipre also provides contents-rich and systematic curriculums to the teen portfolio preparation students that will surely lead them to become real artists with lots of potential and creative ideas.
Through periodic art workshops, the students in this class will be able to plan their own inventive art pieces that lead them to create best-quality portfolio well-suited to the art colleges and majors that they have in mind. Broad yet pinpointed data and information on nationwide art schools that Artipre has will be essential to the successful admission of the portfolio prep teens to the leading art colleges and institutes.
The most basic skill required in the visual arts is creating reality-based landscapes, still lifes, and self-portrait croquis, all of which is thoroughly taught at Artipre.
Artipre works with students individually based on their personalities, preferences, and the art majors they are pursuing. We first strengthen their basic skills and then concentrate on the artistic and technical abilities they must demonstrate through the artwork in their portfolios.
We help students map out the themes for their portfolios, then work closely with them to create not simply technical works but their own masterpieces, uniquely thought-out and representing them as a person. Each portfolio is analyzed regularly to make sure that each piece of art is well aligned with the student's original theme.
We guide our portfolio preparation students in exploring new concepts and artistic views rather than simply imitating staid technical skills. This is exactly what many top-notch art colleges are looking for.
Contact us to be prepared for the admissions process with a fresh portfolio. We help students prepare portfolios from their artwork.